Train / Metro displays and solutions
Inelmatic designs and manufactures display solutions for railway bodybuilders, including railway onboard infotainment systems, driver assistant monitors and digital signage panels for passenger information in the station platforms. Inelmatic has a wide experience on railway and transport, having manufactured tens of thousands of devices sold over the world,
Certifications and quality management
---
Inelmatic follows strict quality controls, qualified to design and manufacture electronic devices under the ISO9001:2015. All of our railway products are compliant with the European standards EN50155 and EN45545.
EN50155:2018 - Electronic equipment used on rolling stock for railway applications
To install electronic equipment on trains they must comply with certain criteria and performance in parameters such as operation temperature range, shock, vibration, power supply, EMC, power surge, ESD and transients. These systems must be reliable and able to work under extreme conditions, especially if used on telematics, engine control or other critical systems within the vehicle.
EN45545-2 - Fire protection on railway vehicles
Inelmatic considers safety regulations and is always ready to provide solutions compatible with the increasingly stringent regulation on the railway sector. Nowadays, all materials used on rail vehicles must follow the EN 45545-2 standard in order to achieve the highest level of passenger safety possible in the event of a fire.
The standard obligates to manufacturers of rail vehicles including high speed trains, regional trains and trains in industrial transportation to consider and tests the performance of the materials and the composition of the smoke generated in the event of a fire.
EN62262 - Anti-vandal / Vandal proof
Those systems facing to the public (passenger information displays, platform displays, infotainment displays...) have to be designed to withstand abuse and vandalism. Inelmatic designs and manufactures displays ready to withstand up to IK10 under the EN62262, as well as watertightness enclosures to avoid the ingress of liquids.

Reliability, Availability and Maintainability (RAMs)

Our systems are designed and manufactured using high quality components in order to achieve the highest MTBF, being able to build RAM analysis.
RAILWAY
product
lifecycle and Obsolescence
We understand the railway field and design and manufacture our products with this in mind. Our commitment in our railway series is >5 years without changes, >10 years with only internal upgrades (mechanical and connectivity compatibility) and upto 30 years for repairs and maintenance.


Train onboard infotainment system
---
Inelmatic designs and manufacture hardware (computers, controllers and displays) for infotainment systems, bringing to the customers the possibility to deliver on-board train passenger information, providing real-time content. This system will let passengers know an ETA (Estimated Time of Arrival) for upcoming stops, maps, delays or changes in the services, as well as advertising information. They also bring an important revenue generated through advertising.
Our MF Series are metal frame displays designed for train installations. They are perfect for CRT replacement, we can built a display according your requirements in size and technical specifications.
Our BA Series are widescreen displays designed for installation in public transport. They are rugged and endure vibrations caused by the railway and metro operational conditions.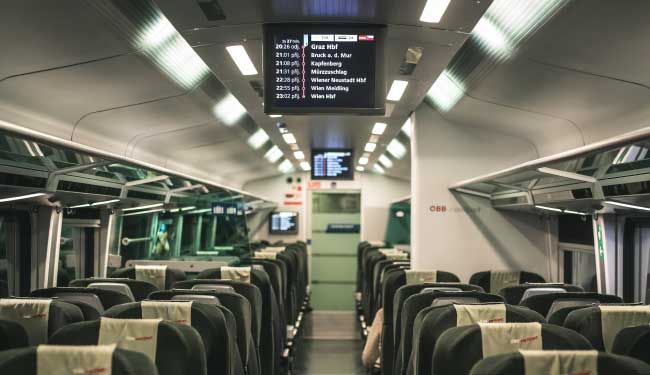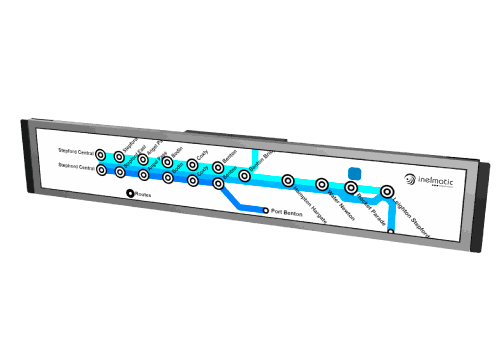 Underground / metro route information
---
Inelmatic route information displays are the optimal solution for the real-time information about train stops, stations and changes in the train links due to works in the stations.
They also bring an important revenue generated through advertising.
Our EDO Series are displays designed for railway installations. They are rugged and endure vibrations caused by the vehicle operational conditions.
Passenger entertainment seat displays
---
Inelmatic designs and manufactures rugged displays for custom integrations in public transportation such as railway, train, metro, subway... deliver on-board passenger information, providing data in real-time and video on demand (VOD) as entertainment.
Our devices optionally includes a special optical treatment for a better user experience when light conditions are a handicap (sunlight or sun readable, and nightlight readable). Our products integrate an automatic backlight adjustment to set the perfect brightness to enhance the visibility. An optional projected capacitive multitouch would be added.
Our IMP802 is a display designed for public transport installations including a standard USB type A socket as a passenger's mobile / tablet charging point. It also includes two jacks to connect two headphones simultaneously.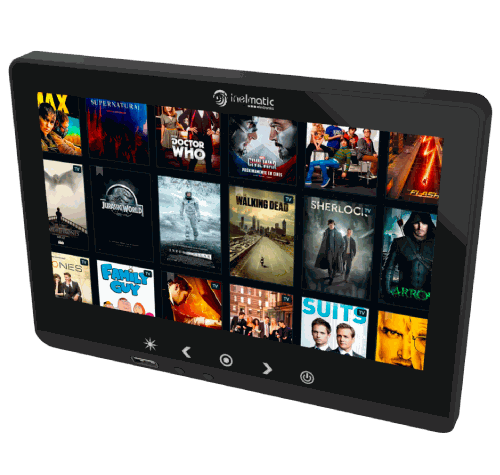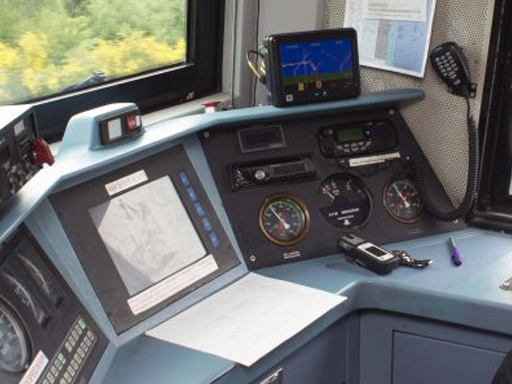 Custom Driver assistant displays
---
Inelmatic designs and manufacture fully custom driver assistant displays, bringing the possibility to cut down the cost and customizing the chassis, connectors, CPU, firmware and drivers. Our major advantages are:
Low NRE or NRE void for low MOQ.

Low manufacturing quantity (MOQ)

Over 15 years of experience.

Global design and manufacturing facilities (Europe and China) to achieve the lowest cost while maintaining high quality standards.
Digital rearview mirror
---
This monitor replaces the exterior Bus, Tram and Train side mirrors, ensuring an optimal visibility, in particular at night or in difficult weather conditions.
This mirror solution increases safety by covering a greater field of vision, eliminating the blind spots, to maneuver easily in all traffic conditions, thereby increasing safety for the driver and other road users.
By eliminating the exterior mirrors, the aerodynamics of the vehicle will be improved, thus saving fuel.
MRF1230 is the perfect solution for the exterior mirror replacement.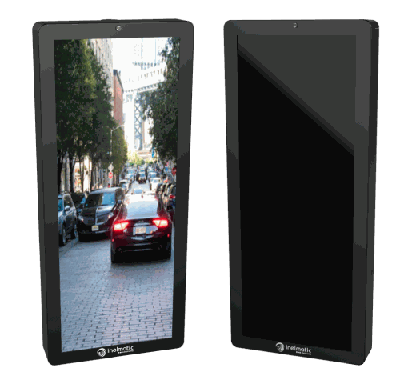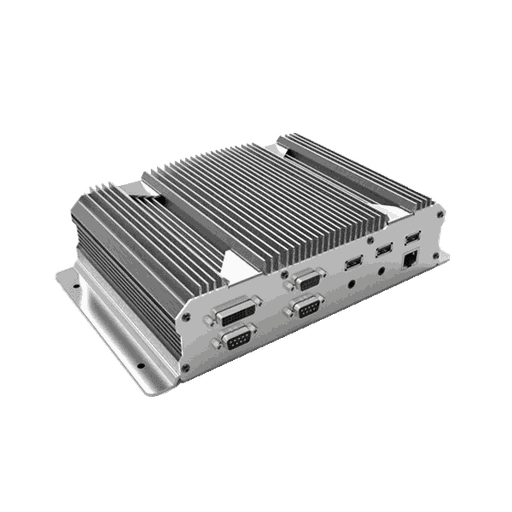 Onboard computers
---
Inelmatic has a wide range and customizable series of computers with Intel and ARM CPUs. The TPC2000 is a rugged PC designed to be installed in railway applications. It is able to provide information and support the connection of multiple external devices. The connector type and count is easily customizable (no NRE required).
Engineer Support
Our support team will help you to achieve your requirements