Bus displays & entertainment screens
Inelmatic offers customized solutions and displays for coaches and bus bodies. These included bus infotainment systems, seat-mounted passenger entertainment displays and driver assistance monitors. Inelmatic has extensive experience on this area and has installed on mass transit buses of many large-scale cities worldwide.
Replacement monitors
---
The infotainment displays include a full range of compatible replacement LCD monitors that are designed to interface with older LED displays, providing a longer life for existing infotainment systems. This compatibility is made possible by our in-house mechanical and electronics department, with many years of experience in LCD display design.
Bus infotainment systems
---
Inelmatic infotainment system deliver on-board passenger information, providing real-time content. This bus LED display will allow passengers to know the estimated time of arrival (ETA) of upcoming stops, maps, delays or changes in services, as well as advertising information. There are additional indicators for "bus stopping" or "ramp requested" integrated with bus information system.
They also bring in significant revenue generated by advertising.
Our BA 29" Series are displays designed for bus installations. They are rugged and withstand vibrations caused by the movement of the bus.
Thousands of them are installed around Europe. (See EMT Madrid showcase in a promotional video)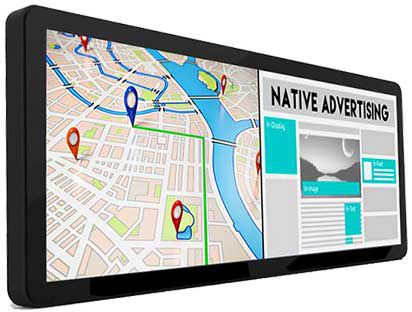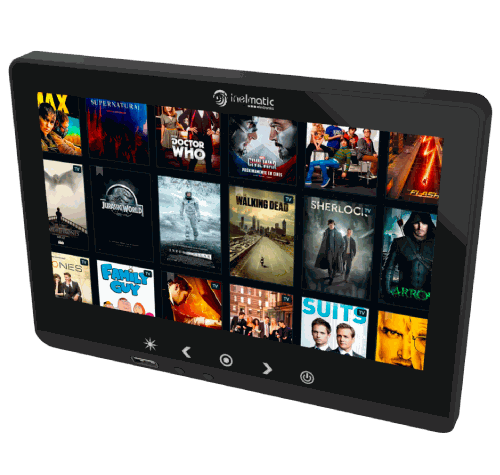 Passenger entertainment seat displays
---
Inelmatic has built a rugged display for custom integrations in public transportation such as bus, railway, train... Optionally a projected capacitive multitouch can be added. Our mechanical and electronical departments will meet your requirements and exceed your expectations.
Our devices can also include a special optical treatment to improve the user experience when lighting conditions are a handicap (readable in sunlight and night light). Thus, our products integrate automatic backlight to adapt the perfect brightness to enhance the visibility.
Our IMP802 is an 8" display designed for installation on public transport and includes a front USB socket for external connections and devices charging.
They are rugged and withstand vibrations caused by vehicle movement. The final housing includes a protective glass for the LCD panel.
Bus driver assistant monitor
---
We have developed intelligent transport displays for efficient transport, tracking and vehicle management systems. These monitors provide real-time information to drivers to reduce fuel consumption and optimize routes.
ED700 is a 7 inches monitor, 16:9 aspect, with CPU integrated (Intel Atom or Quad Core ARM) and a optional capacitive touch panel, running on wide power supplies.
On the optical side, it includes a LED backlight and a fully configurable manual or automatic dimmer. Optical enhancements (sunlight readable and transflective) can also be added.
On the mechanical side, it is constructed with a slim plastic and aluminum frame.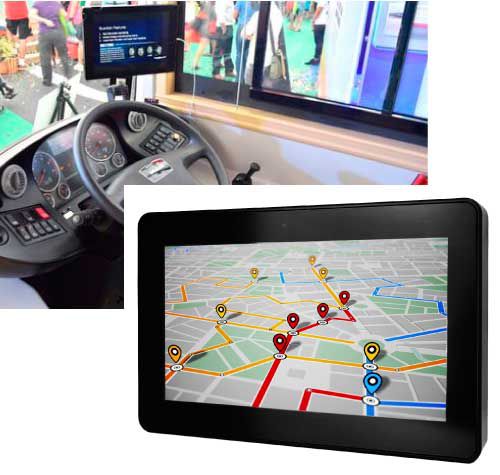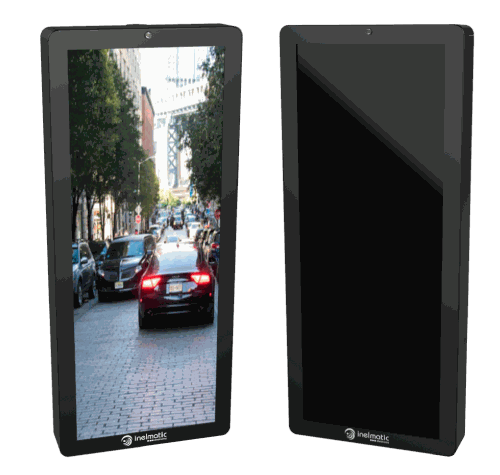 Bus rear view mirror display monitor
---
This monitor replaces the side mirrors on the bus, ensuring much better visibility, particularly at night or in difficult weather conditions.
This mirror solution increases safety by covering a greater field of vision, eliminating the blind spot. In other words, you can drive in comfort and maneuver easily in all traffic situations, thereby increasing safety for the driver and other road users.
By eliminating the exterior mirrors, the aerodynamics of the vehicle will be improved, leading to fuel savings.
MRF1230 is the perfect solution for the exterior mirror replacement .
Vehicle computer and player PC
---
Our in-vehicle computers have been designed to be reliable and achieve the longest MTBF. Including rich I/O, heat management proprietary technology and isolated power supply input from 9 to 36VDC and 16 to 160VDC.
We offer both Intel Atom and ARM CPU options, including extensive support for the O/S installation and BSP customization.
The model VDS1600has been installed in over 7000 buses over the world, bringing advantages such as low profile and wide temperature range at low cost.
They are the perfect for using with the Inelmatic infotainment displays.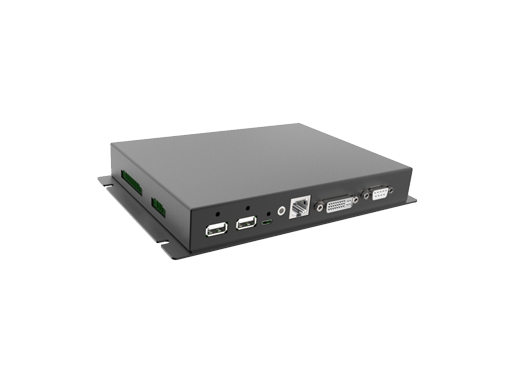 Engineer Support
We are able to integrate our devices in your bus fleet according your requirements with the last technology innovations.