Interactive digital signage displays
Inelmatic digital signage solutions offer high flexibility to fit most of the digital signage applications. If you are looking for a specific use or solution, contact us, we can advise about the best product and build it hand by hand working together.
All models feature an easy-clean, anti-glare and optional scratch-proof IP65 protected front glass. The front options offer a choice between either PCAP touch, resistive touch, or protection glass.
Reliability, functionality, accuracy, hygiene, performance efficiency and cost-effectiveness are all key features when it comes to interactive information, digital signage, kiosks, and medical equipment.
Inelmatic is an industry-leading manufacturer of commercial grade digital signage displays. We provide solutions to end users across many industry sectors, finding the most suitable solution to meet their needs. From classic digital advertising displays, to interactive touch screens, we're always adding innovative new products to our extensive range.

Our digital signage displays are present in:
Restaurants, Cafés and Bars

Transportation

Offices

Education

Events

Retail

Hospitality

Healthcare
Custom designs

---
Additionally to the standard or commercial sizes, we also offer custom designed products to best fit your specific display requirements according your business. If you cannot find a standard configuration that will fit your exact application, our technical design department is willing to create a custom display for your digital signage solution. As an OEM, we can also manufacture bespoke solutions to fulfil specific project requirements.
COVID-19 digital signage solutions

---
At Inelmatic we are aware of the world problem due to the global pandemic. Since the first moment we have worked hand by hand with a lot of companies to integrate our displays in final solutions. We want to help customers of every sector combating challenges faced because of the COVID-19 pandemic. Our OF series is a range of LCD specifically targeted for these new solutions.
Our displays are able to be integrated in:
Facial Recognition stations fare gate (photo)


Hand Sanitizer kiosks

Facial Recognition thermometer displays

Freestanding digital posters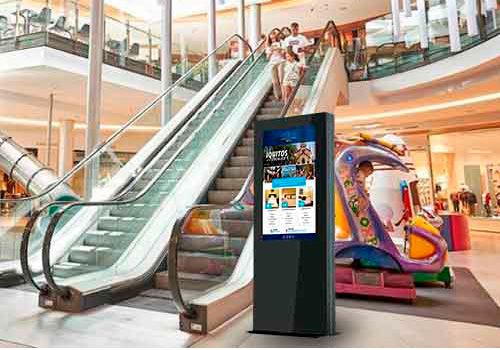 Advertising digital signage totem displays
---
Displays mounted in digital signage totems will bring you real-time information.
Digital signage advertising has proven to be the most captivating way to reach potential customers with the message of your brand.

Our high-brightness LCD digital displays work for outdoor applications in the retail, transportation and hospitality industries. Our screens provide you with content that is not hampered by lighting conditions, and they maximize customer engagement.
MF series displays are the perfect solution for vertical LCD advertising totems or businesses and organizations.
Arcade and casino displays

---
Casinos need to engage their guests and spur them to action in order to be successful. Inelmatic open frame LCD displays are the perfect solution to meet this need, whether they are installed in the different parts of the arcade or slot machines. Our robust and reliable displays are customizable to any size, shape, or and their 100,000 hour backlight ensure that your guests will be entertained during their casino experience.

We have a proven high-quality casino gaming displays that offer quality and reliability. These properties are too critical to be ignored for casino gaming display, which run 24 hours/day in high humidity and high temperatures. The capacitive panel touch has been designed for high performance in harsh environments.
Our large experience in displays and monitors design and manufacture is the key of our business. We can provide you an excellent alternative to the commercial multinationals, with a low cost gaming monitor and display customization, from small sizes up to large widescreen.
See our open frame catalog or ask for a specific requirements.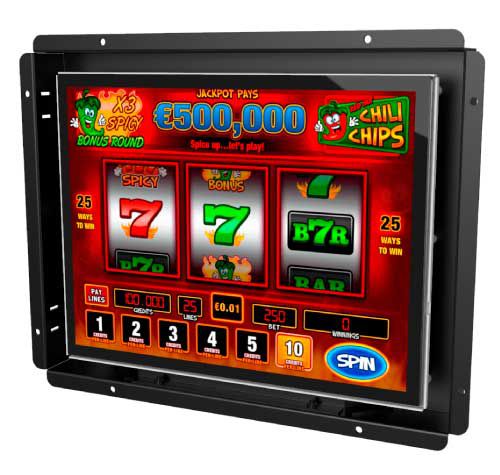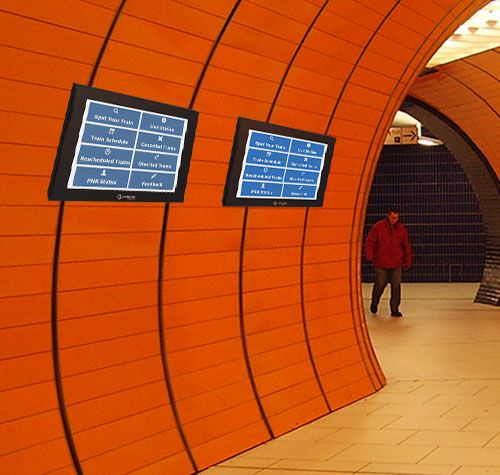 Smart station digital signage displays
---
More and more users demand real-time information on the state of public transport in the largest cities.
We have collaborated in some projects to transform the old railway and metro stations in new smart stations with many IoT devices connected to each others, for example alerts on screens before the turnstiles.
In this way the real-time information is very important for the user, for example information about the level of occupancy of the transport lines, delays or changes in the frequency of the services. station alerts, and even dynamic train arrival information.

Our MF series and OF series are the perfect solution to integrate a digital solution in the stations of the future. For further info, please contact us.
Healthcare digital signage LCD

---
Our digital signage monitors have been installed within interactive healthcare solutions, reducing perceived waiting time and offering some form of entertainment for the patients and visitors.
Apart from entertainment and advertising, it is possible to integrate a queue management system helping hospitals to manage the token generation process and at the same time keep the visitors engaged.
In case of relevant broadcast information, you can send targeted messages from a central point, be it a reception desk or a communications department. The content of the message would depend on the location, may be either aimed at customers or staff, or both.
If you want to customize a specific digital solution in your hospital, please contact our technical team to evaluate the best option.
Restaurant digital signage LCD
---
MF series are customizable digital menu board to promote specials, discounts or new dishes. Also you can upsell specials, and promote events.
We can integrate our displays:
As a digital menu board

To order food (with the displays with touch panel added)


At the POS (point of sale)

In the window display


As an advertising display
Some of the benefits installing digital signage displays:
Dynamic menu boards creating attractive digital menu boards depending on the day of the week.

Advertise time-sensitive special offers.

Entertain your clients displaying product stories, brand videos or live kitchen cams.

Gain engagement and Brand Loyalty showing your social media feeds, generating more followers and social media activity.
Ask our commercial team to find the perfect solution to integrate a digital solution in your restaurant.
Retail digital signage displays
---
Digital signage in retail can be used to direct customers to upsell items, specific products, provide wayfinding to toilets or give emergency information. This reduces staff costs and places shoppers in charge of their own experience.
If you are looking for well-designed content delivered on a multitude of digital screen types to inform and engage customers, our digital signage displays are the best solution. There are many benefits with touchscreens and digital signage over traditional signs such as inform, engage, and educate your customers with interactive content.

Benefits:
Upselling and content-driven sales

Increase engagement and reach

Positive change in consumer behaviour


Tells your brand's story

Decreasing costs versus traditional advertisements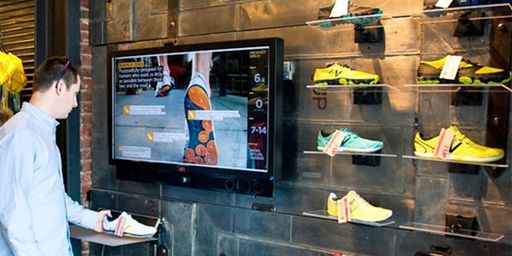 Engineer Support
Contact our engineers and learn more about how we can provide solutions for you