Healthcare LCD displays and all-in-one computer
Inelmatic's healthcare monitors offer high flexibility with respect to the design. Unique antibacterial material has users operate our monitors without any hygiene concern, including the SARS-CoV-2, cause of the COVID-19 pandemic. All models feature an easy-clean, anti-glare and scratch-proof IP65 protected front glass (optional up to IP67). The front options offer a choice between either PCAP touch, resistive touch, or protection glass. We understand the importance of providing the optimal panel PC system that suits an array of applications in healthcare environments.
We offer reliability, functionality, accuracy, hygiene, performance efficiency and cost-effectiveness hardware solutions such as: interactive information, digital signage, kiosks, and medical equipment displays. For system integrators, our terminals are compliant with IEC 60601 safety standards for medical devices. For this reason, we minimize the time-to-market by ensuring compliance with healthcare regulations.
Fully IP65 protection in Rugged LCD Monitors
Our LCD Monitor for Hospital and healthcare are designed ideally for wet and dusty applications where liquids and dust are a constant issue. Many of our Healthcare monitors meet NEMA 4/4X and IP65/67 requirements.
Common features
All of our displays and Panel PC designed for Healthcare, have common model features as:
Anti-Bacterial / Anti-Microbial, including the SARS-CoV-2 virus COVID-19


True-Flat PCAP Touch

Fanless and Silent

Front IP65, Enclosure IPX1 (optional full IP65)

Supports VESA (75 x 75 mm) mounting and open frame installation


Webcam Available

WiFi + BT Available

RFID

Supported OSD Function
We are a leading provider of medical computing platforms and solutions. Also, our products are equipped with multiple I/O ports for integrating additional peripherals according to usage requirements. Our technical is able to meet all your requirements to integrate all kind of devices with different communication protocols, for example, with nurse call systems for rapid solution development.
Bedside patient terminal monitor
---
Inelmatic technology and connectivity at the patient bedside elevates patient satisfaction by offering Information Access, Doctor's Consultations, entertainment, request nurse assistance, manage the room environment, communication to the outside family with the webcam and Mic-in input. It supports for VESA mounting make it ideal for installation as bedside terminals.

EDF Series are elegant and slim design of medical-grade All-In-One Panel PC. This series is well suited for medical cart, surgical room, operating room, and bedside infotainment terminal. EDF2150 is an ultra slim medical-oriented product, that easily, friendly used by healthcare professionals. Unique antibacterial material has users operate EDF2150 without any hygiene concern and it optimizes healthcare productivity.

In the professional side, it exchanges clinical data increasing interaction between patients and clinicians, and consequently improving the quality of care delivered. Our patient-centered computer enhances patient satisfaction and caregiver productivity.
For further information about our products or a custom design, please contact us.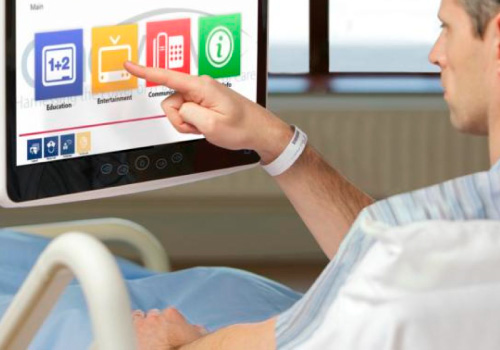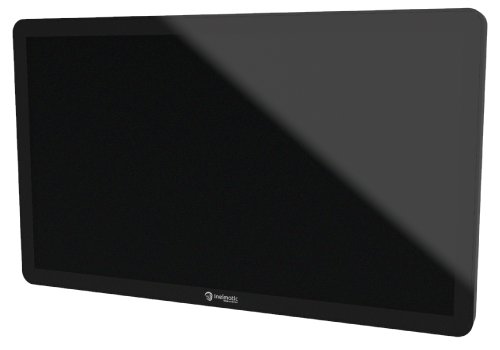 Medical point-of-care information computer
---
Our medical products are equipped with multiple I/O ports for integrating additional peripherals according to usage requirements. This eliminates the need to install extra modules or customize the design during manufacturing, providing equipment builders with an easily integrated HMI for rapid solution development.
Our products are compatible with Windows 10 IoT (64 bit), Android 8.1, and Linux 18.04 operating systems and support both wired and wireless communication.

Healthcare staff can use the terminals to access medical records and hospital information systems, retrieve laboratory results, monitor patient vital signs, and document treatment observations.
Our patient-centered computer enhances patient satisfaction and caregiver productivity.

For further information about our products, please contact us.

Healthcare digital signage displays
---
Digital signages are often found in common areas like waiting room, reception, lobbies etc.. Inelmatic interactive healthcare digital signage solutions help to reduce perceived waiting time and can offer some form of entertainment for the patients and visitors.

Usually the waiting time in medical facilities is very high, for this reason it is very important to improve the sense of wellbeing of patients during that time. In this way a digital signage platform to reach interactive content is crucial.
Benefits of digital signage in healthcare:

Queue token management. Our digital signage solutions are integrated with hospital systems helping the token generation and the queue management.

Interactive content. Content on health or specific content of the hospital can be reproduced to keep the patient informed with the latest news in the sector. It will improve the visitor experience.

Decrease and reduce perception of wait time. Digital signage solutions in the hospitals waiting rooms play an important role in entertainment for visitors.

Share Healthcare information. You can share and educate visitors and patients with educational contents or medical advices.


Promote Hospital facilities. With advertisements controlled centrally you can promote in-house facilities and services offered by the hospital.

Help patients and visitors in wayfinding. Interactive wayfinding digital signage monitors aid the visitors to quickly locate and navigate to their desired destination.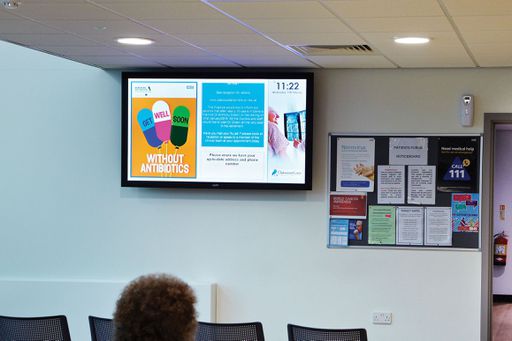 Surgical displays and monitor solutions
---
Inelmatic offers a combination of the latest and highest technologies in the range of surgical display solutions which allows medical staff to view content, such as diagnostic images, hospital information system (HIS)/picture archiving and communication system (PACS) patient information
Thanks to our extensive experience in developing custom solutions for countless industries, we are able to work with surgical theatre integrators who want to mount our monitors into their products.
Our surgical monitor series ensures a precise representation of grayscale images for surgical applications, compliant with DICOM GSDF 14-bit LUT processing grayscale.
If you are looking for a custom widescreen medical-grade surgical monitor designed for medical imaging applications to ensure operating precision, please contact our technical department made up of engineers with extensive experience in the development of this type of solution that will help you choose the best device that suits your needs.

Medical box PC
---
Our patient-centered computer series enhances patient satisfaction and caregiver productivity.
Equipped with an Intel® or ARM processor with 10 years longevity support and multiple PCIe slots for integrating graphics and data capture cards to enable video recording and analysis. Our medical computers and PC for healthcare and hospitals are a cost-effective and scalable solution for edge-to-hospital information system (HIS) applications:
Stylish and user friendly outlook for Hospital environment

Supports Intel® and ARM processor

Rich expansion for multi-purpose application

Reliable platform for 24x7 operation for medical use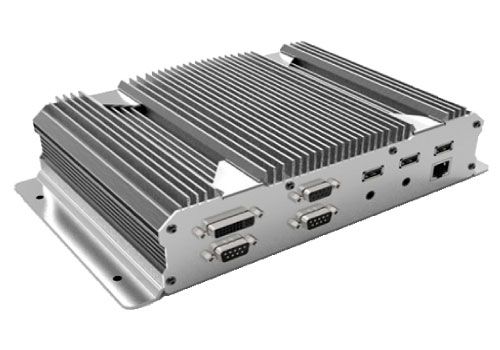 Technical Support
Contact our engineers and learn more about how we can provide solutions for your Hospital.