Defense monitors: Military and Marine
Inelmatic design and manufacture displays and devices for applications such as: hmmwv army , Big army truck, Tactical support, Storm combat, Military stryker, Bradley fighting, Stryker tank, Military light combat, Armored military patrol...

We provide a full range of LCD displays, suitable for Military applications in mind such as:
Military navigation display monitors

Shipboard Automation Monitors


Aviation Display Monitor

We manufacture high quality Military and Marine displays to meet your requirements. Our XF series is a range of ruggedized Military LCD displays are designed for vehicle mounting to work in the most extreme environments.
Our Panel PC LCD displays for Military and Marine are tested for the upmost in durability and can be designed to meet the top standards:
MIL-STD-167

MIL-STD-461

MIL-STD-810H

MIL-STD-901D
Our design capability is constantly evolving along with technology and we are regularly on the spearhead of Military display innovation. We can supply our services and products all over the world covering the quality standards of the final country where the product will be installed.
We modify off-the-shelf (MOTS) displays or even a custom product designed from scratch, using our in-house mechanical and electronic design team. We have an agile and a very speedy and efficient process using a simple read across from previous designs, as well as taking off-the-shelf proven component parts as drop in modules in order to achieve our aims with confidence.

Fully IP65 protection in rugged LCD Display for Defense
Our Marine LCD Monitor range are designed ideally for wet and dusty applications where water and dust are a constant issue. Many of our Military Monitors meet NEMA 4/4X and IP65/67 requirements.
Inelmatic Rugged COTS (Commercial Off-The-Shelf) Military LCD Display Monitors are capable of operating under the most severe environmental conditions withstanding extreme temperatures, shock and vibration, high altitudes, and marine exposure.
Common features
All of our displays and Panel PC designed for Defense, have common model features as:
Rugged Design for Vehicle Mounting

Optimum performance in extreme environments: durability and reliability.


Optical enhancements: non-glare glass protection screen, AR (antireflective) coated, AG (antiglare) film lamination...

High Brightness & Wide Viewing Angles

Deep Dimming Capability

VESA Standard Rear Fixing

Contrast Enhancing AR Safety Glass
Custom design for CRT replacement
If you are using CRT displays replacing them with our Military rated Industrial LCD flat panels will help you save space which is incredibly important in confined areas.
Rugged military lcd display and Panel PC
---
Our displays are specially designed to be installed in military vehicles with sizes from 5 to 42 inches fully customizable in aspect and internal features.
For advanced use, our wide panel pc range for Military is perfect to be installed in places where, in addition to data visualization, real-time data computing is very important to be able to make the best decisions at the most crucial moments.

XF Series is a military vehicle LCD monitor range which has been built for installation in Military and public service vehicles. The mechanical design offer a long durability in vehicles with a use in hard environments. The optical part has been optimized for working in situations with low light conditions or with the direct sunlight. They are fully readable in adverse lighting conditions.
ED Series is a military embedded display with computer range, prepared to be installed and integrated in HMMWV (High Mobility Multipurpose Wheeled Vehicle) or Humvee, providing information and real-time data computing to cargo and troop transports, automatic weapons platforms, ambulances or missile carriers.
For further information and confidential information about our products, please contact us.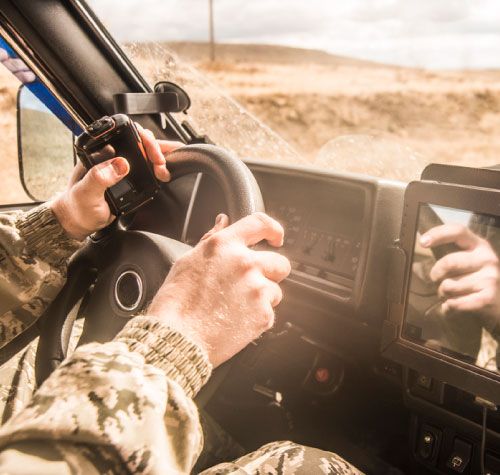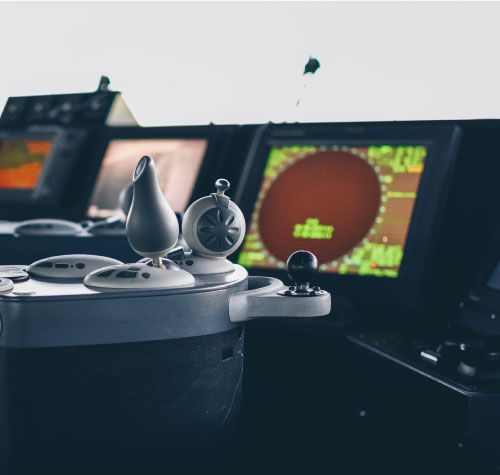 Marine rugged monitors and computer displays
---
Inelmatic outdoor marine-grade LCD displays and monitors are designed specifically to withstand use in harsh marine environments, handling extreme weather conditions, light, and temperature conditions. We are a leading provider of marine displays, with a good reputation in the maritime industry.

We build Shipboard automation monitors and displays with computer in sizes from 5 up to 42 inches, fully customizable in aspect and internal features. Our series provide additional sealing up to IP68 / NEMA6P in a rugged metal housing with glass protection, making it suitable for sheltered external usage. They are designed to comply with EN60945 & ECDIS and the capability for silent operation.
EDF Series is our embedded Marine grade panel pc, designed and built for shock and vibrations. With wide viewing angles and deep dimming capabilities, this series of monitors is ideal for the more demanding of panel mount applications such as Chart Display Tables or Head Mount monitors. These series has been designed to comply with military standards for shock & vibration and EMC.
EDO Series are open frame panel pc for rack mounting in Marine vehicles to replace the existing old CRT or TFT displays. We are able to customize the internal features to adapt and fit your special requirements for Tabletop rugged LCD displays.

For further information and confidential information about our products, please contact us.

Military rugged PC
---
We have developed a series of rugged and embedded computers for Military, Marine and Industrial applications. Integrating Intel ATOM or ARM CPUs and very rich Input / Output and Wireless communications.
Our Defense computers are designed to meet the most demanding power supply requirements, including battery-powered vehicles (ISO-7637), Railway (EN50155) and military (MIL-STD-1275). We choose high-quality solid-state components to reach the highest reliability and MTBF. All our products have long life-cycles, ranging from 5 years minimum, up to 30 years, in order to fit our customer's project requirements.
For further information and confidential information about our products, please contact us.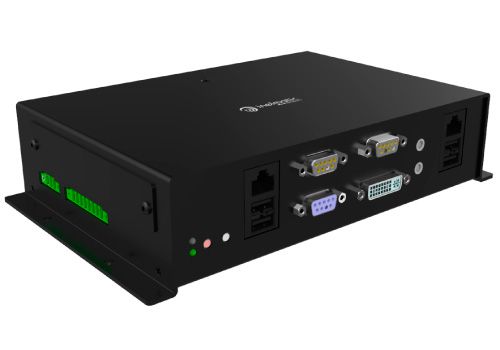 Engineer Support team
Contact our support team and learn more about how we can provide solutions for you