Rugged Displays and Monitors
Inelmatic rugged displays are engineered to meet military, industrial, automotive and commercial requirements. High brightness and contrast, sunlight readable, resistant to impact, scratches, condensation and dust penetration.
Designed for high demanding applications and challenging environments, our displays are the optimal choice for industrial, commercial, and military systems (including those on the move, whether on land, at sea, in the air or space). Our Rugged LCD Monitor range are designed ideally for wet and dusty indoor applications where dust and water are a constant issue.
Advanced lamination and glass improve durability and impact resistance, brightness and contrast, and sunlight readability, while reducing reflection, condensation, and dust buildup.
Inelmatic a globally recognized rugged display manufacturer , with tens of thousands of monitors in the field around the world.
Rugged vehicle monitor - XF series
---
Cost efficient vehicular displays
XF Series are vehicular grade XGA monitor, including LED backlight with 400nits, 500/600nits (HB) and 1000nits (SHB) brightness versions, wide angle panel with Sunlight readable options in Resistive & Multi-touch Projected Capacitive touch panels.
It's the perfect solution for automotive installation as additional vehicle monitor. They include the latest generation of LED backlight with passive enhancement, to achieve a high brightness keeping the lowest power consumption and heat.
The manual and automatic dimmer bring the possibility of matching the brightness to the ambient light. It makes the display readable from darkest conditions without disturbing the driver's visibility, up to the strongest light environments.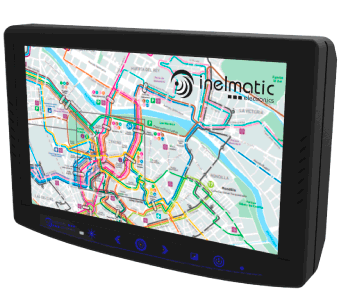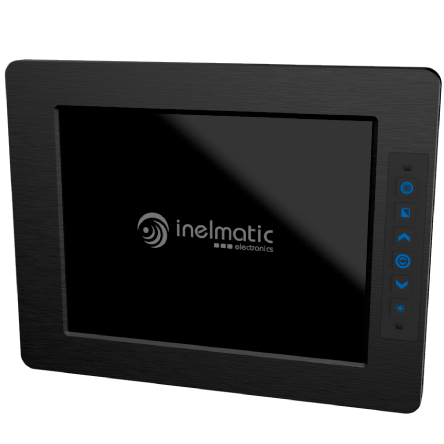 Rugged metal frame monitor - MF MAF series
---
The MF series are rugged metal frame monitor designed by Inelmatic Electronics, can be easily embedded in panels such as industrial machines, medical devices, vehicle, yacht/marine and military.
The MAF series are the new generation rugged milling metal frame monitor watertight IP65 and up to IP67, and low power consumption. It's the ideal solution for outdoor usage, or harsh environments.

Including a high featured controller with automatic and manual backlight adjustment, which makes them suitable for applications from the darkest night (NVIS) to the bright sun light.
Besides, they optionally include a resistive touch panel with USB controller, adding interactivity. Also its optional an "all-in-one cable", with a lockable connector for an easy and quick installation.
Technical Support
Our support team will help you to achieve your requirements